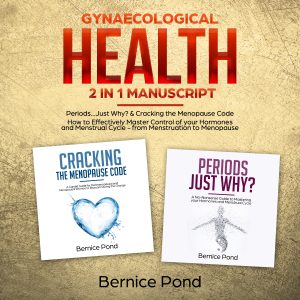 Gynaecological Health 2 in 1 Manuscript – Periods…Just Why? & Cracking the Menopause Code: How to Effectively Master Control of Your Hormones and Menstrual Cycle from Menstruation to Menopause by Bernice Pond
If you want to discover all the answers to your most burning period questions, then keep reading….
Having your period is messy, makes you sore (like being hit by a train), and is emotionally draining and irritating, not to mention highly inconvenient! Many women and young girls are embarrassed by the process of menstruation, but everybody goes through it.
Inside this audiobook, you will discover…
Demystifying the most astonishing legends around periods
The surprising effect hormones have on your body and mind
Just what on earth is PMT?
How to recognize abnormal periods and when to seek medical advice
The top menstrual care products to make periods more comfortable
Plus, as a bonus, you'll also get Cracking the Menopause Code to help you demystify the whole journey from periods to the menopause.
In Cracking the Menopause Code, you will discover…
The three key hormones that play a role in the onset of menopause
Vital questions you need to ask your doctor about the menopause
Just what is HRT?
And so much more…
In this 2 in 1 audiobook, you will get accessible and straightforward advice concerning all your deepest period and menopause concerns. This audiobook will support you to turn the mysterious world of the complex reproductive system and menstrual cycle into a vital tool for helping you to monitor your level of physical health and well-being. You could go on just guessing, continuing to be in agony each month when you get your period – having no clue as to why you experience these pains and symptoms. Or, you could simply get this book and arm yourself with the knowledge you so desperately need to debunk your body's mysteries.
So, if you want to discover how to effectively master control of your hormones and menstrual cycle from menstruation to menopause, then you need this audiobook today!
Buy Gynaecological Health 2 in 1 Manuscript – Periods…Just Why? & Cracking the Menopause Code: How to Effectively Master Control of Your Hormones and Menstrual Cycle from Menstruation to Menopause