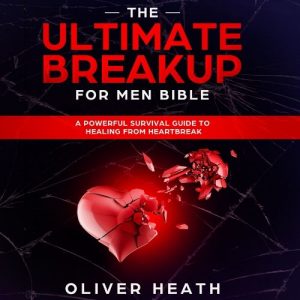 The Ultimate Breakup For Men Bible – A Powerful Survival Guide To Healing From Heartbreak by Oliver Heath
Relationships can end for so many reasons, but you may still have a lot of love and many strong feelings for your ex. Dealing with the intense grief of your breakup naturally brings up all kinds of crazy thoughts and feelings. Factors like lifestyles, distance, wanting children or not or simply being in the wrong time, and the wrong place might come into play. It is often these complexities that lead to the most painful of breakups. It does not matter how complicated your breakup is or how much love may remain; this book can give you the path to letting go and moving on. After countless painful breakups and heartbreaks, I decided to take charge of my love life and my reactions to loss. After making simple changes, I was able to get over the pain of past relationships.
In this book, I will share a practical step-by-step guide to releasing the negative feelings of heartbreak and finding new love in the healthiest way possible. Don't waste your time feeling bad or doing the same things you have always done – that haven't worked. Time is moving forward, and life is moving forward, with or without you. Don't let life pass you by while you are stuck in a rut feeling broken-hearted and lonely. Take charge of your life and your feelings. Learn to heal your heart and become stronger than ever. Now is your chance to become master your heartbreak and to do the work that will empower you to live your best life and love your best love.
Buy The Ultimate Breakup For Men Bible – A Powerful Survival Guide To Healing From Heartbreak