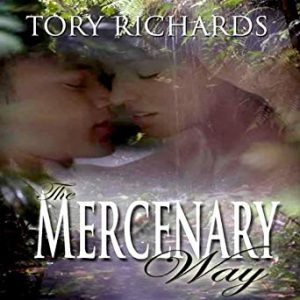 The Mercenary Way by Tory Richards
Kidnapped and imprisoned, Sarah Reynolds needs all the help she can get – but soldier-of-fortune Clint Becker is just a different kind of danger. When a ruthless gem smuggler mistakes Sarah for her best friend, Susan, she's kidnapped and stashed on an island. Her only hope of rescue is Susan's cousin Clint – a man whose my-way-or-else attitude is as infuriating as his muscular body is distracting.
Clint, ex-Navy SEAL turned mercenary, desperately needs a vacation. Rescuing a kidnapped woman from an island paradise isn't what he had in mind. And when he encounters Sarah's sassy mouth and tempting ways, he soon realizes he's the one in trouble. Clint and Sarah elude her captors, but there's no escaping the attraction sizzling between them. With danger pursuing them, they have to learn to work together. But can an opinionated florist and a rugged mercenary ever find common ground?