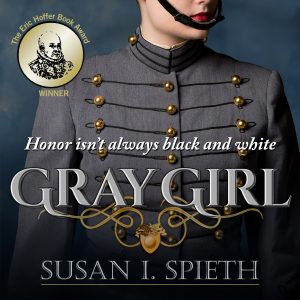 Ten men for every one woman. Those odds are stacked against Jan Wishart as a freshman at West Point. The first year at the military academy is harsh, with exhausting physical and mental demands which beat everyone down. But the women cadets also endure body shaming, sexual harassment and contempt from those who want to see them fail. Charged with an honor violation, Jan must defend herself before an all-male cadet jury. She's convinced that her accuser is likely the predator who violated a friend. The battle for justice will rage, not only for Jan, but for the victims of the predatory cadet. And one night will change everything–for better or worse.
The grayness of West Point is not only in its buildings and uniforms. Even honor isn't always black and white. Relying on her wits and a few friends in the hostile environment of the U.S. Military Academy, Jan discovers the value of friendship, the genuine marks of leadership and her own inner warrior.
2014 Eric Hoffer First Horizon Award WINNER! 2014 Eric Hoffer e-book fiction WINNER! 2015 Kindle Book Award semi-finalist!
The Gray Girl Series depicts authentic experiences of the early years when the United States Military Academy first admitted women cadets. Jan Wishart is both heroine and troublemaker. She and her friends sometimes create their own dilemmas but mostly solve the larger issues they face while at West Point in the early 1980's. Gray Girl: Honor Isn't Always Black and White is the first book in the Gray Girl Series. Area Bird: Duty Doesn't Always Follow the Rule is book 2. Book 3 is Witch Heart: Leadership Always Requires Sacrifice. All three can be read alone, but best read in order.