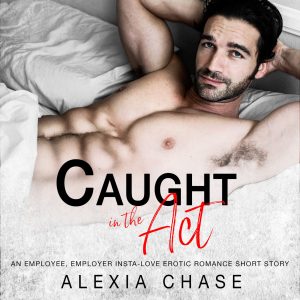 An erotic short story with a heart!
He's her boss, but he has a strict "no mixing business with pleasure" policy. Leah would love to stir things up at the office. When Aaron catches her "in the act", Leah is humiliated and fears that she will be met with a severance package. Will Aaron break his policy or fire her on the spot?
Warning: This story features graphic depictions of explicit sexual acts and is intended for listeners who are 18 and above only. All characters depicted in the story are over the age of 18. Be prepared for dirty words and even dirtier sex. Enter at your own risk.
About the author: My name is Alexia Chase. I'm the only erotic romance author who specializes in quick, dirty, and sweet short stories. They are intended for busy working mothers who admire and acquire books that provide the full escape of a novel but don't take a lot of time. More importantly, I offer insta-love, smutty sex, and swoon-worthy moments that will leave you with a flushed face and a giddy smile. Quick – pray no one is watching and wondering what in the hell is wrong with you because no one else looks that happy! My stories gives busy women that short escape they need when they can't afford a trip to the Caribbean with their secret lover, Dimitri.