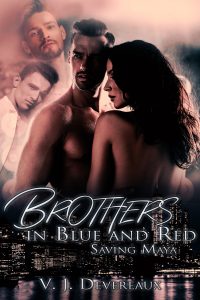 Brothers in Blue and Red: Saving Maya by V. J. Devereaux
When paramedic Jason Armitage responds to reports of wounded from a bank robbery, he finds pretty art teacher Maya Thompson shot. It's a coincidence his brother, Jack, a detective with the city PD, is assigned the case. And there's another brother, firefighter Jordan. For Jack, not only is she attractive, she's the perfect witness. To the men who robbed the bank? Maybe too perfect.
Three handsome, appealing men born to protect and serve. Maya can't choose….