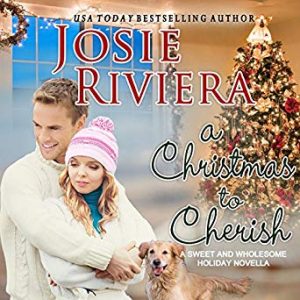 There's nothing a Christmas kiss won't cure. Except perhaps a shattered heart….
When Emmanuelle Sumter steps off the train in Cherish, South Carolina – a town simply glowing with the promise of Christmas – she finds herself praying God will help her find the broken pieces of her life. Shattered, like her beloved harp, her dreams, and her trust in men.
Her friend Dorothy told her Cherish is a safe haven. But she never expected Dorothy's brother, Deputy Nicholas Thompson, would relight the one thing she thought she'd lost forever: a spark of hope.
Not long ago, while Nicholas' sister was in rehab, Emmanuelle's voice and smile on his Skype screen held him together. After that, she seemed to disappear, an absence he felt keenly when his ex-fiancée left his faith in God dented but not broken.
Now she's in Cherish, even more stunning in person. Yet she's holding tight to a private pain she refuses to reveal. Nicholas resolves to be patient, vowing he'll never let anyone hurt her again. Even when her past rears its ugly head to destroy what's left of her heart.