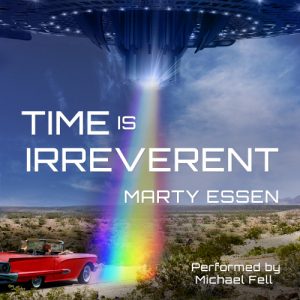 An irreverent, liberal, twisty, time travel comedy!
What if you could change history to eliminate slavery, World War II, the Spanish Inquisition, global warming, and an egomaniacal nuclear-bomb-dropping US president? What if that change also made 5 billion people poof from existence? Would you do it? Time Is Irreverent explores those questions, as benevolent aliens send Marty Mann to AD 31 to correct an error in history.
Spanning from the Cretaceous period to 2056, Time is Irreverent is a hilarious, thought-provoking satire, with unpredictable twists, colorful aliens, huge dinosaurs, a smokin' hot lesbian from the future, and a cameo from Jesus Christ himself!
"Highly recommend. It's fun, clever, cool, witty, surprising, political, sexy, everything a sci-fi book should be. And as someone who's also written a sci-fi-time-travel-humor novel, I love that Marty Essen doesn't break the time rules he sets up from the start – so many sci-fi authors do, and as far as I'm concerned, that's just lazy writing. Not the case here! Yes, his characters learn and adapt and grow, but the foundation of his rules remain intact always. To repeat: fun, witty, surprising, sexy. Highly recommend."—Jeff Abugov, writer, producer, director, and Golden Globe Award, Peabody Award, and People's Choice Award-winner