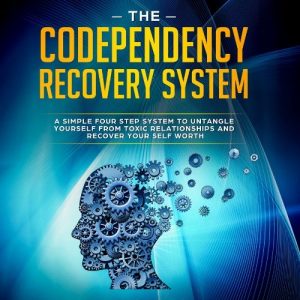 The Codependency Recovery System: A Simple Four Step System to Untangle Yourself from Toxic Relationships and Recover Your Self Worth by Bernice Pond
Do you want to master codependency and break free from harmful toxic relationships? Then you need to keep reading…
Do you want healthy and stable relationships? Now is the time to break the cycle of codependency. No more excuses, no more judgements; right now is where you start the rest of your life.
Let me introduce myself. My name is Bernice Pond. I spent a hectic and rewarding forty-year career as a registered nurse in the UK. During my long career, I trained in several areas of the health care sector. I spent many years working as a psychiatric nurse in hospitals and care centres in both London and the South East. My help and expertise will equip you with a reliable framework to recover from destructive codependent relationships. The book will offer clear and practical instructions and guidance relating to the thorny issues of codependency and codependent personalities.
In the Codependency Recovery System, you'll discover:
The crucial red flags you need to look out for within a codependent relationship.
Why emotions are so difficult for a codependent to control or process.
The two vital keys to building confidence and self-acceptance.
Master how to identify toxic and highly damaging behaviours within others.
Discover how to avoid toxic relationships and becoming toxic yourself.
How to develop a strong foundation for your future family and with the one you have.
The necessary actions you need to take in order to understand how to defeat your inner critic, overcome fear, and accept who you are.
And much, much more…
The purpose of The Codependency Recovery System is to help you understand codependency and break free from its power so you can take control of your own life. This book is the ultimate guide to overcoming these codependent patterns of behaviour. I have split the book into two easy-to-digest sections. In the opening half of the book, you will uncover the truth about codependency and how to spot it. Here, you will gain a more profound understanding of where codependency comes from, how it relates to other disorders, and what it all means. In the following section of the book, you will discover the four phases of recovery from codependency.
I promise that by the end of The Codependency Recovery System, you will have mastered how to communicate effectively, build your self-esteem, set structured habits, and never fall into toxic relationships again. After reading this book, you will realise what codependency truly means. Besides that, you will also discover how to recover from the emotional trauma suffered within codependent relationships. Now is the time to feel better, and there is no time to waste. Don't let your questions go unanswered any longer. Get them answered, right now.
Buy The Codependency Recovery System: A Simple Four Step System to Untangle Yourself from Toxic Relationships and Recover Your Self Worth