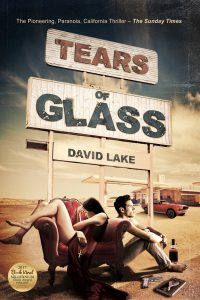 The Award Winning Bestselling Thriller : 'Hands down, one of the best and most original novels you will read this year. ' – Book Viral Reviews. Includes original soundtrack songs of Love and Loss by a Bafta Winning songwriter.
' The Pioneering Paranoia California Thriller ' – Sunday Times
Morgan is a failed Quarterback, failed husband and failed human being.
When this chain-smoking, hard-drinking womaniser happens upon a seemingly innocuous rejected demo tape by a bluesy pianist, he thinks it's just another bit of music that never made the grade. But when people around him start dying in unexplained Accidental deaths, Morgan realises there's more to the tape than meets the eye.
Realising that it is he who is the target, Morgan goes on the run – heading for the California desert and picking up the inevitable girl en route as he tries desperately to stay one step ahead of those who would do him harm.
But little does Morgan realize that he has stumbled upon a conspiracy that the Intelligence Services have been trying to keep buried since The Wall came down. With the help the girl, he must go on the offense to save his own world as well as ours.
The clock is ticking. Not just for Morgan, but for all humanity.
'Scintillating' – BBC TV
' Superb' – Time Out
' Lyrical, even in the midst of mayhem' – BBC Radio
' Three parts Big Sleep to two parts Wilt ' – The Independent
' Easy Rider meets Dr. Strangelove ' – BBC Radio
'Chandleresque' – BBC Radio
' It is a metaphor for our times – I want to make this movie' – Irvin Kershner Dir. Empire Strikes back
' Lake's timeless masterpiece' – Hush Hush Hollywood Biz Entertainments
' Deeply involved and impeccably phrased.' – The Telegraph