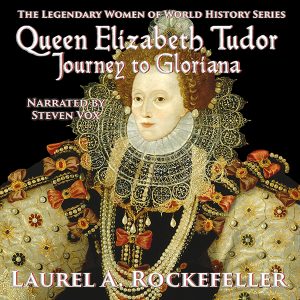 About : Queen Elizabeth Tudor: Journey to Gloriana by Laurel A. Rockefeller
"I am by your Council from you commanded to go to the Tower, a place more wanted for a false traitor than a true subject, which though I know I desire it not, yet in the face of all this realm it appears proved", wrote Princess Elizabeth Tudor in her 11th-hour letter to sister Queen Mary as guards waited to transport her to the prison at the Tower of London.
Queen Elizabeth is perhaps the most legendary and celebrated ruler in English history. Yet do you really know her as well as you think you do?
In this beautiful narrative biography you explore Elizabeth's path from "Lady Elizabeth" to "Gloriana" through the lens of her relationship with Robert Dudley, a relationship far more contentious than most people believe. Politics and religion collide, provoking Elizabeth to console herself with her music, and a hard decision lays before her as plots against her life threatens her throne.
Take the journey to Gloriana and discover a side to Elizabeth you never knew existed.
Features six medieval and Elizabethan songs, a detailed timeline, and an extensive suggested reading list. Continues "Mary Queen of the Scots: the Forgotten Reign."
©2015 Laurel A. Rockefeller (P)2022 Laurel A. Rockefeller