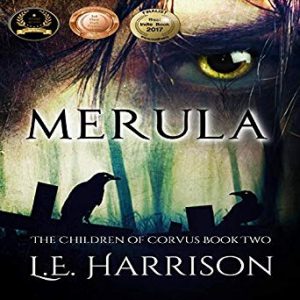 What if you were a shape-shifter, but didn't know it? What if the man who raised you orchestrated your father's execution? What if you discover that the people closest to you have been lying to you all your life?
Merula is book two in the compelling contemporary fantasy trilogy about a tribe of shape-shifters, deep within the inhospitable forest of Northern Maine, USA, in an alternate dimension known as Blackwater Hills.
On a cold October morning in Blackwater Hills, Samuel Singleton steps outside to do his morning chores and is whisked through a portal into the domain of the witch goddess known as the Shadowlands.
On a cold October evening, Cadie Maxwell follows what she believes is the will of the gods, and embarks on a quest to find the real truth about her tribe's Sacred Law – a law that demands that any male cursed with shape-shifting powers must be executed. With limited knowledge of the world beyond Blackwater Hills, Cadie arrives in a small town called Ashland. She takes a job at a local bar and grill where she hears Jonathan and Sarina Lance discussing their missing father, best-selling novelist J. Lance Sr.
Cadie, Jonathan, and Sarina join forces with an eager, up-and-coming reporter on an expedition through the mysterious forest to rescue J. Lance Sr. Cadie guides the outsiders through the Great Shield (a powerful force field that that protects her homeland), but things do not progress the way any of them expect.
Anxious to find her father, Sarina breaks off from the group. The others chase after her, but find Samuel – naked and disoriented – instead. Cadie discovers that Samuel is cursed with the shape-shifting power, and to her dismay, the council of priests votes to put her in charge of Samuel's execution. In order to save Samuel's life and get her friends safely back to Ashland, Cadie must expose the corruption within the priesthood, forswear her holy vows, and uncover the real truth about her gods and her tribe.