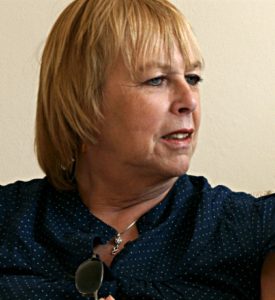 Featured Interview With V.M.Sang
Tell us a little about yourself. Where were you raised? Where do you live now?
I was born and raised in the town of Northwich in the north west of England. It is a small town that at the time had one large industry, ICI, that employed most people in the town in one capacity or another.
I actually lived in a village about 3 miles outside the town. The village is called Davenham. There was (and still is) quite a lot of countryside around the village and I had a good childhood roaming the fields and woods with my friends. We climbed trees, picked bluebells (now forbidden), dammed streams, got wet, stung, grazed our knees and all in all had a good time.
When I got older, my friends and I ventured further afield on our bikes and went on hikes. We lit fires and cooked food. Probably not very safe and hygeinic, but we lived and didn't burn anything down.
I trained as a teacher in Manchester. I loved the student life. I continued my love of hiking by joining the Hinkin Club where I met my husband. We hiked in Yorkshire, Lancashire and Derbyshire over the moorland and hills.
In Manchester I also increased my love for Manchester United, and football in general. I'm really enjoying Euro 2016. My second team is France, having had a second home in Brittany for 15 years until 2008.
I have 2 children, a girl and a boy, and 3 grandchildren whom I love to spend time with.
I now live in East Sussex with my husband and enloy walking on the Downs.
My other hobbies include a variety of crafts and listening to music. I did used to play the piano and violin, but that had long lapsed.
At what age did you realize your fascination with books? When did you start writing?
I have always loved books, even when I was a tiny tot. I can't remember a time when I didn't like them.
I learned to read before I went to school and haven't stopped since. I hate not to have a book with me. I now carry a number around on my ipad. Although it isn't the same as a 'real' book, it's much more convenient when travelling.
My mother once said that when I had my head in a book, it was a waste of time talking to me as I wouldn't hear!
Who are your favorite authors to read? What is your favorite genre to read. Who Inspires you in your writings?
I like a number of authors. Of the classical ones, I like the Brontes and Jane Austen. I recently read the Great Gatsby and enjoyed that, but I must admit I'm a bit ignorant of the American authors. I have some on my ipad to try to remedy that.
My favourite genres are Fantasy and Historical Fiction. I enjoyed reading the Dragonlace Saga by Weiss and Hickman, and of course, George R.R. Martin, whom I discovered long before the TV series, I hasten to add. I also enjoy Brandon Sanderson and Robert Jordan.
In historical fiction I like Phillipa Gregory.
I am inspired by all of the above, and for persistence in the face of rejections, J.K. Rowling. (I also like Harry Potter!)
Tell us a little about your latest book?
My latest book is currently undergoing editing at the publisher. It is the second part of a series called The Wolves of Vimar.
I'll tell you a little about the first part, The Wolf Pack.
It developed from a Dungeons and Dragons scenario I wrote for a club I ran. I thought it might make a good story and so I began writing. The first draft took me a couple of years as I was still teaching at the time and wrote mainly in the summer holidays. I felt a great satisfaction when it was finished. What I thought would be one book turned inot at least 4, possibly 5.
Carthinal, an apprentice mage, was excited to be travelling to Hambara to take the tests that would end his apprenticeship. Little did he know how his life was about to change in many ways.
Firstly, there was a flash flood that took away the caravan he and his master, Mabryl, had been travelling with. This happens before the book starts. Mabryl dies of his injuries and so Carthinal and three people he met on the way, Asphodel, an elven healer, Basalt, a dwarf and Fero, a ranger from lands far to the south.
Once in Hambara, after the tests, the four are given the task of finding the long lost sword that belonged to the legendary King Sauvern.
They are joined by four others on the quest and meet with great dangers and each has to face up to their innermost fears.
All of the companions have arrived at where they are by some act of defiance. They are all individuals, but somehow meld together, like a wolf pack. There are sparks that fly every so often. Carthinal has a quick temper, Basalt is stubborn, Asphodel will follow her conscience in spite of orders to the contrary. She is almost confined to an enclosed order of clerics because of this. Fero disobeyed his father to become a ranger and was disowned. Equally, the other four also defied some authority.
The quest changes them all, but the land of Grosmer is in great danger.
Connect with the Author on their Websites and Social media profiles