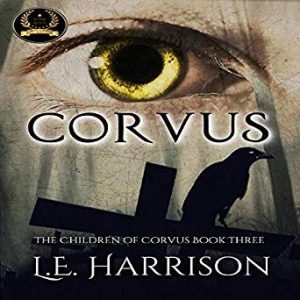 A witch and a son of Corvus must combine their powers to defeat the witch goddess and save the souls of the Merulas trapped inside the Shadowlands.
As host of the newscast, The Scoop At Five: Live!, Catriona Remington prefers to show the world a brave face. Inside she's barely keeping it together, worrying over the fates of Sarina and Jonathan Lance. After they located the twins' missing father in Blackwater Hills, Sarina stayed behind by choice. Jonathan, however, is being held prisoner in the castle dungeon for the crime of homicide.
When she receives disturbing news from the senior Medicus of Blackwater castle, Catriona enlists J. Lance Sr.'s help to infiltrate the dimension of the children of Corvus and aid her friends. But an irresistible attraction to Samuel Singleton, the newly crowned leader of the tribe, awakens a power she's been suppressing since leaving the coven. Also complicating matters, is Sarina's mystifying and debilitating illness. When Catriona follows Samuel into the Shadowlands to rescue his father, she finds herself at the mercy of the witch goddess and her demons.
To save his father's spirit and protect his mate, Samuel must learn to embrace his power and his duty to his tribe as the Merula. He must also learn to accept Bestiae–the god-like part of himself he can't control.
Can Catriona be the bridge that ends the centuries' long feud between the sons of Corvus and the daughters of Venefica? Or will the mere fact that she was born a witch irreparably damage the Balance in Blackwater Hills, and provoke the wrath of the Raven of Otherworld?
CORVUS is book three in the compelling contemporary fantasy trilogy about a tribe of shapeshifters, deep within the inhospitable forest of northern Maine USA, in an alternate dimension known as Blackwater Hills.