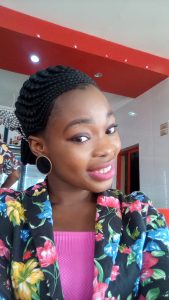 Featured Interview With Elizabeth A. Kazeem
Tell us a little about yourself. Where were you raised? Where do you live now?
I'd say I'm a beautiful but humble, high-spirited, devoted, and disciplined but jovial personality. Don't be surprised if you catch me picking my nose, I'm praying to be delivered from that habit. I don't do it often in public though. 'Laughs'. I enjoy putting smiles on people's faces, listening and counseling. I really do love impacting lives. I'm fun to be with and can dance pretty well, only to good songs though. I'm simply Elizabeth Kazeem. I was born into a family of eight, my parents included. Don't judge my parents until you meet them, they love children. I am a Nigerian, and was opportune to grow in that beautiful land flowing with milk and honey. My family was such that studying, doing house chores, and proving each day that you're disciplined was far appreciated than a gift of many hampers. Being bred in a family where so much love abound gave room for development of traits and talents. I took to reading since I could spell my name correctly. I loved reading so much that I could exchange my dinner for a good book to read. I don't have any pet yet. But if I'd get one tomorrow, I would get a parrot, then I'd be able to share funny stories of how it mimicked every one around the house.
At what age did you realize your fascination with books? When did you start writing?
I started writing at around 10yrs. I began with illustrations, you know, the childish drawings you see in children friendly books. I'd illustrate a whole story and then search for someone to narrate it to. However, I graduated to telling stories. Whenever I had the opportunity to share a story with friends, I didn't narrate books I've read, except on few occasions, I rather gave my own fiction. They'd always enjoyed it anyway. I started real time writing in senior school.I wrote my first published book in 2015. I actually wasn't thinking of writing a novel at that point. I merely posted a part of the first chapter on my blog as a 'share and care' stuff, posts you read and drop your opinion about. But it turned out people were expecting more. One of my readers, my number two fan—God is my number one, He's interested in all I do— encouraged me to build on it and finish it, which I then did. Before I finished it people were already telling its tale, which geared me on to finishing it. When I finally dropped my pen, I realized I had finished "Thorns and Roses".
Who are your favorite authors to read? What is your favorite genre to read. Who Inspires you in your writings?
Joel Osteen, Joyce Meyer, Lisa Jewel, Karen Kingsbury, and Francine Rivers, to mention but a few. My favourite genre include Inspirational nonfiction, Romance, Thrillers, Women fiction.
Hundred percent, God inspires me. All I need to do is pray and take a pen. My loved ones and my fans do a great job to cheer me on.
Tell us a little about your latest book?
My latest book is "Thorns and Roses"
Centred on three major people who must survive the pricking of the thorns to enjoy the beauty of the rose.
Melissa, an orphaned young woman with a terrible health challenge, Leukemia, who was jilted and abandoned. Despite the tugging responsibilities on her shoulders, she quitted her job as the manager demanded an amorous affair with her. She fell and was covered in thorns, which prevented her from reaching out to the one, who loved her. She must overcome myriad of thorns if she must pluck roses. Would she really survive?
Mark, a handsome gentleman, the type you see on the cover of fashion magazine. He was a repented Casanova who was later on being played. Despite his devotion for the one he loved, he was not accepted by her. Would he give up after unraveling a scary secret of hers?
Tara, the young virtuous girl, hated for wanting to keep her dignity and purity. Despite her determination to stay unspotted, she was abused, and developed a life threatening consequence. Would she survive or give in to the cold hands of death?
Many more awaits you in the intriguing, suspenseful and gripping book, "Thorns and roses".
Connect with the Author on their Websites and Social media profiles
Elizabeth A. Kazeem Facebook Page