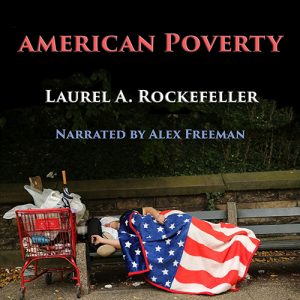 American Poverty by Laurel A. Rockefeller
In this thought-provoking historical and economic analysis, Laurel A. Rockefeller takes on poverty culture head-on, exploring what it means to be poor in the United States. She also takes a look at how America's closest, and much more economically successful, allies (Canada, Germany, France, and the United Kingdom) take care of their poor.
From housing conditions to hunger to poverty psychology, Ms. Rockefeller takes on the core issues while offering tangible steps everyone of every income bracket can take today to secure America's future and guarantee a secure America for our children.
Part one: includes essays exploring five facets of poverty in America: a lack of empathy, complacency about poverty, poverty shaming, public housing, and rape culture.
Part two: features analysis on how each of us can and should address each facet of poverty, no matter how old or young we are.
Part three: offers a look at poverty and public policy toward poverty in Germany, France, Canada, and the United Kingdom. Comparative analysis between these US allies and the United States and the impact of poverty on foreign policy and national security.
The sources include: American Express, Forbes, CNN Money, The New York Times, Feeding America, The Shriver Report, Herald Scotland, BBC News, The Joseph Roundtree Foundation, The Huffington Post, and The Toronto Star.